A magnificent Week 2 of MPL PH Season 8 has come to an end, with two teams dominating the standings and two surprises at the bottom.
headline image courtesy of Bren Esports
Week 2 of the Mobile Legends Professional League Philippines Season 8 ended yesterday, with some teams beginning to find their rhythm and others struggling to get a hold on things. For the likes of ONIC PH and the Season 7 champions, Blacklist International, the tournament so far has been promising. However, for MSC 2021 champions and Season 6 victors, Bren Esports, not much seems to be going their way in the early stages.
Omega's resurgence
Smart Omega Esports have had a rough opening two weeks of MPL PH Season 8 and the team have definitely been missing out on the presence of Kelra. That said, Week 2 seemed to have a much better start as they brought in their new young player, Dean Christian "Raizen" Sumagui, which helped them take a brilliant victory over RSG PH. The win certainly revitalized the team and set them up for a crucial series against Blacklist on Day 2. But, even after turning around a huge game one, Omega were eventually struggling to keep up with Queen OhMyV33nus and the Blacklist roster – who took the series in fine fashion.
Distraught after this loss, Omega eventually had the final series of their week stolen away from them too by some quick thinking from Nexplay EVOS. After their first five series, Omega have only one win, as they look now to the return of Kelra to pull them back on track.
Blacklist and Onic on top
Blacklist International have quickly become the favourite team in the PH MPL, showing off dominant performances from their entire roster, winning Season 7 and even creating a huge in-game rivalry with Smart Omega. With that in mind, it is not surprising to see the team sitting in second place, having not lost a single series. However, their victories have definitely not come as easily as they would like, dropping games to Echo Esports as well as Omega this week, and one to Nexplay EVOS in Week 1. That said, they will be looking to improve as the Regular Season continues.
Onic PH have definitely opened up their Season 8 in a far better way than their previous season – currently topping the standings. Having finished in seventh/eighth in Season 7, the team now look far more stable and ready to get back to their winning ways. Having dropped only a single game so far, Onic's performance has been that of a championship team, but now they face some grueling tests as the season continues.
Bren and Echo's struggles
Echo Esports begun MPL PH Season 8 on a high, taking victories over Omega and Bren in Week 1, only dropping their series to Onic. The team seemed to definitely have a reignited spark from their rebranding, but unfortunately it flickered out in Week 2. Losing to both RSG PH and Blacklist, Echo have missed out on points that could have placed them near the top of the group. That said, they certainly did give the reigning champions a tough time and we expect to see them making a comeback through the Regular Season.
M2 champions earlier this year and the only team to beat Blacklist in Season 7, Bren Esports have fallen a long way. Although one of two teams to have only played three series, Bren have only managed to secure one game win, as they struggle to find their footing. Even with only TNC Pro Team on their schedule in Week 2, Bren were never really able to get off the mark, leaving them in last place for now.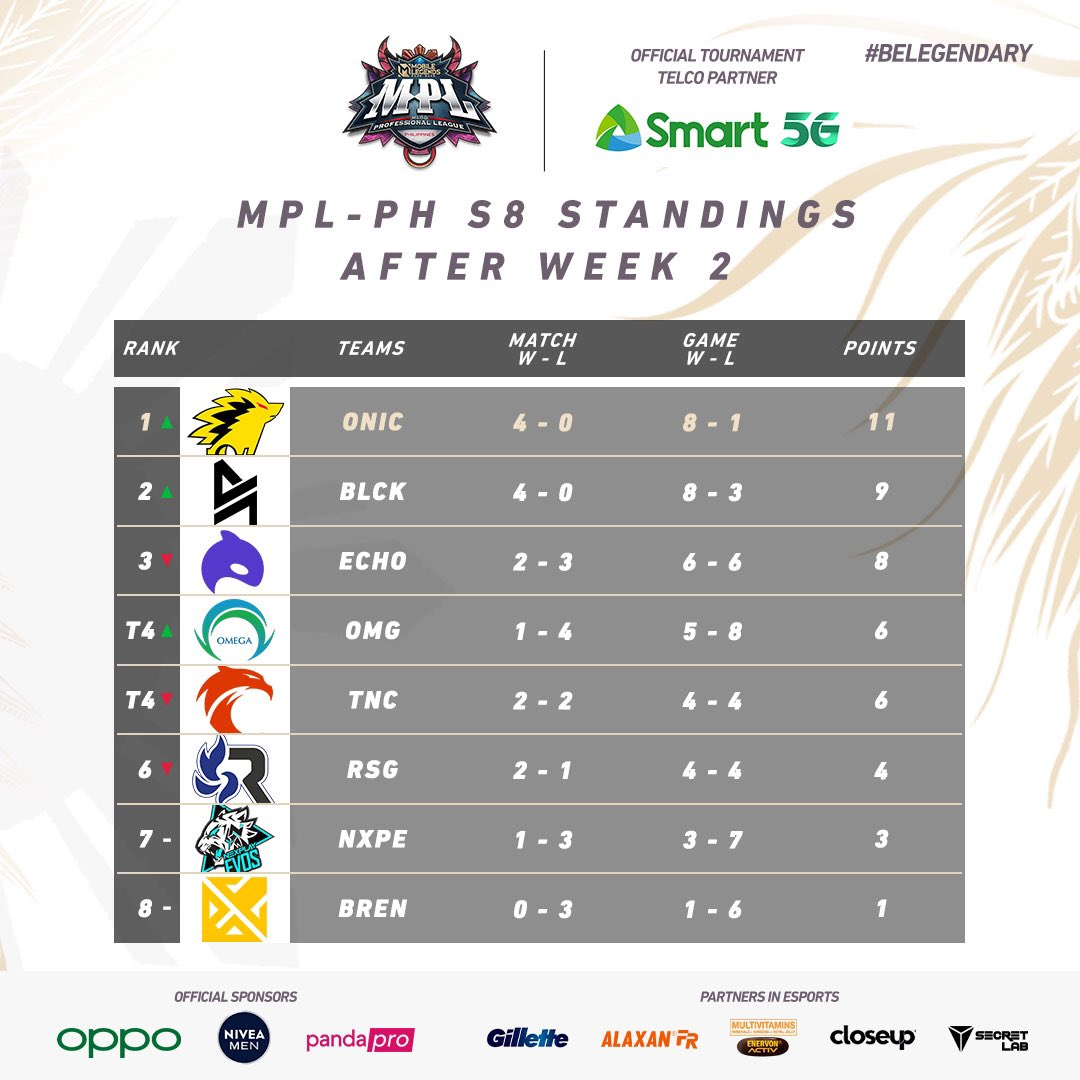 MPL PH Season 8 Week 2 was definitely a brilliant one to watch, with tons of nail-bitingly fantastic moments, huge wins for some and crushing losses for others. While it is only two weeks gone, the teams are starting to develop a meta of sorts, with Chou, Alice, Ruby and Ling seeing a lot of game time. It will be interesting to see just how the Regular Season unfolds as we now look to Week 3 of MPL PH Season 8.